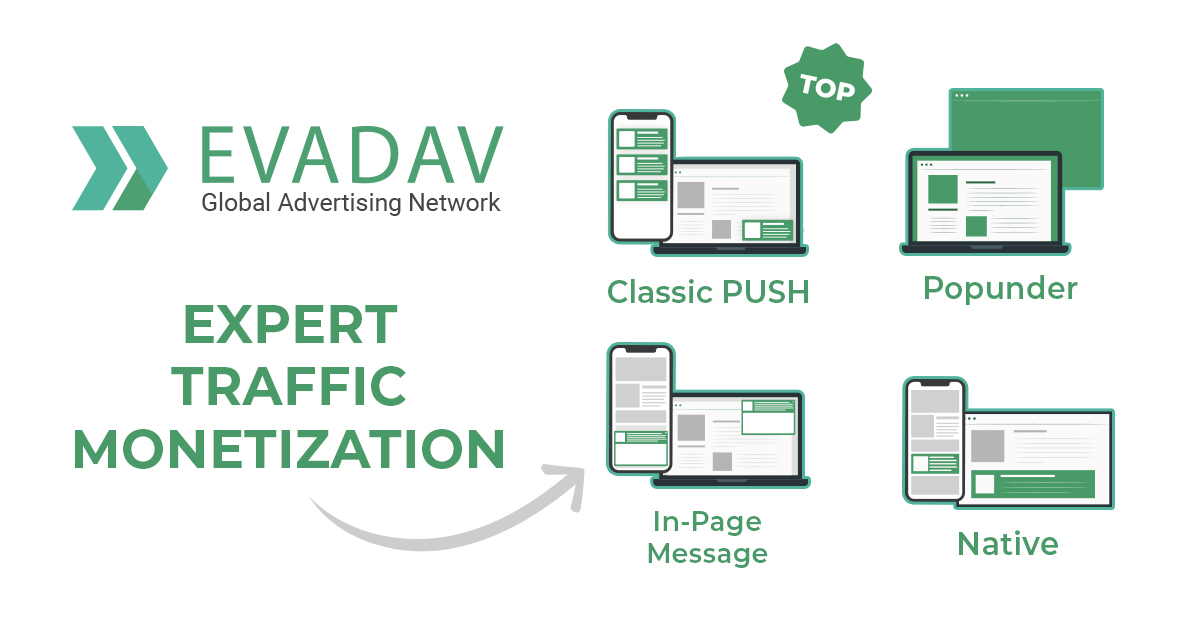 WHAT IS EVADAV?
Evadav is a leading advertising platform trading native ads, push notifications, inpage messages and popunder on CPM and CPC basis. Serving 3+ billion impressions per day, we strive to be best in class. We offer bespoke technology, a 24-7 client care service with dedicated account managers, and a wide range of ad formats and payment options to suit you. We believe your business deserves nothing less. At Evadav, we take pride in partnering with you to help your business bloom. Let's evolve together!
4 AD FORMATS
- Native Ads
- Push Notifications
- Inpage Messages
- Popunder
THINK BIG - GLOBAL WORLDWIDE COVERAGE AND UNIQUE AUDIENCE
Get access to over 75000 publishers, advertisers, and direct sies
FORGET ABOUT AD FRAUD
In-house fraud filters and optimization intelligence systems take care of each click preventing mislead. Only targeted clicks on your ad.
For advertisers
- over 40K quality direct publishers and site owners;
- over 100 billion ad impressions monthly;
- loyal and fast moderation and approval of creatives 24/7/365, on average, within 15 minutes;
- 40+ payment systems;
- in-house advertising ecosystem, including SSP, DSP, DMP, Ad Exchange and Programmatic units, as well as an intelligently optimized AI unit;
- referral program - CPA $100;
- each click tracked and optimized for your profit!
For publishers
- over 25k quality direct advertisers
- 50k+ active campaigns monthly
- 24/7/365 support and tech help for explosive monetizing of your traffic
- referral program in the amount of 5%
- instant weekly payouts starting from $25 via 15 payment systems
Join the advertising platform that will take your business and income to a new level!